Those who know Dick and Gail Reilly are aware of their passion for the west. It was no surprise when they decided to turn their platform tennis court construction business over to their children and move to Montana. It was a surprise for some that they moved to Eureka Montana  to start a platform tennis dude ranch and a series of platform tennis camps.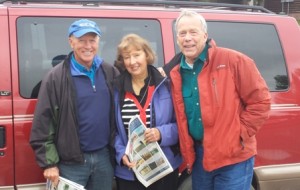 The R.J. Reilly camps transformed the sport. They provided players with a venue for learning the sport from some of the top professionals in the country. As well, they had a major impact on the platform tennis teaching profession and the way professionals teach the sport. They made it fashionable for players at all levels to take platform tennis lessons and clinics. In addition the USA PPTA, the trade association of teaching professionals, was a direct result of activity at the RJR  programs. The following two articles from Platform Tennis Magazine highlight activities at R.J. Reilly camps.
The Reillys are now retired and their camps have been closed, but their impact on the sport is still felt today.