Business and Sports
Links to the business and sports vitae for Gary Horvath are provided below.
Business
Gary Horvath has conducted business, economic, and market research in Colorado for over 25 years. He is cited frequently by The Denver Post and other state, regional, and national media.
For a number of years Horvath oversaw the preparation of the University of Colorado's Business Economic Outlook Forecast and has compiled confidence and leading indicator series for the state and local communities. In addition, he conducted numerous economic impact analyses and prepared overviews of the photonics, nanotechnology, homeland security, and film industries. As well, he directed two strategic studies that evaluated the economies of each of the state's 64 counties. The reports focused on  distinctive competencies, critical industries, and workforce strengths for each county.
His recent economic analysis is available on the cber.co (Colorado-based Business and Economic Research website). The primary focus of that work has been on the Colorado economy.  For more details about his business and economic background click here.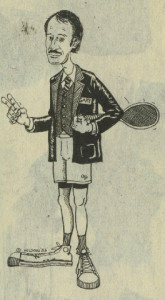 Sports
Gary Horvath became interested in tennis in the fifth grade when a classmate brought a tennis racquet to show-and-tell. He signed up for tennis in the summer recreation program and has been an avid player since.  In college, he was an all-conference tennis player and captain of the conference championship team his senior year.  While attending Oregon State University he played men's club volleyball.
After attending Oregon State, he was the Director of Racquet Sports (tennis and platform tennis) at Tamarron Resort in Durango, Colorado. In addition to playing competitively in all three sports, he has coached them at various levels, from entry-level to nationally ranked players.
Horvath is a Master Professional with the United States Professional Tennis Association. Only about 150 members have been certified at this level. He is also the founder of the USA Professional Platform Tennis Association, the certification body for the sport of platform tennis. (PPTA merged with USPTA in 2015). In addition he is a USA Volleyball CAP I certified coach and has been an evaluator for USAV High Performance tryouts.  Horvath also played a major leadership role in the formation of the Business of Sports program for the University of Colorado Executive Education program and taught in the program during its first year.
For additional information about his work in sports, athletics, and recreation click here.
Contact Information
Please send an email to gary@garyhorvath.com
720 315-6330
Broomfield, Colorado 80020